It's never to early to create your legacy
By Julia Umansky
Director of Gift Planning & EITC
In any community, you can find stories of those who have made lasting imprints and preserved legacies of what is most important to them. When I first came to the Lehigh Valley, I devoted time to getting to know the history of the community and those that helped build the Jewish culture that is present here today. While there is no shortage of inspiration to be found and personal legacies to be told, many people feel that they do not meet the requirements to establish their own legacy. I often hear "I wish I could do something like that but I'm not at a stage in my life where I have the resources to make that commitment. I don't even know how to make a legacy gift." Contrary to popular belief, you don't need a million dollars or even the ability to predict the future to make a legacy commitment. If you care about making your support for a beloved organization that can extend beyond your life, you can indeed act now to do just that.
 
In 2017, our community launched the LIFE & LEGACY® program in partnership with the Harold Grinspoon Foundation. After completing five years of the program, our community heads into our LIFE & LEGACY Plus era to normalize legacy giving. To date, our Jewish community has nearly 500 legacy commitments supporting local agencies, organizations, and synagogues. Along the way we have heard some incredible stories about commitments that have been made and why people feel the importance of leaving a legacy. While many people believe legacies are set up at a certain stage or age in life, that couldn't be further from the truth. In fact, over 20% of legacy gifts in our community are from donors under the age of 50.
 
A legacy gift can come from many different sources beyond a cash bequest. An organization can be named a beneficiary of an insurance policy, a donor-advised fund, a trust, a retirement account and so much more. You can even receive lifetime income by creating a charitable remainder trust or a charitable gift annuity while naming a charitable organization as the future beneficiary. (Note: CRT and CGA options are best for older donors due to age requirements for receiving payments.) If you are interested in learning about the range of options, you could start by speaking with a development professional at the organization of your choice or reach out to Julia Umansky at Federation. Of course, to know what plan might be best for your personal situation, always consult your financial adviser or attorney.
 
Leaving a legacy is about more than providing financial support to an organization close to your heart. It can be about sustaining a personal legacy for what is and has been important to you, setting an example of giving back to others in your life, ensuring that the world and culture that surrounds us today lives on into the future. Whatever your goal may be for creating your legacy, we can help you reach your goals and make an impact.
The Federation endowment delivers best-in-class performance
By Lewis Gaines
LVJF Investment Chair
Our June 2023 YTD return of 11.5% was dramatically higher than the Moderate Allocation Index benchmark return of 6.9%. Our portfolio has outperformed for more than 10 years in both up and down markets. Since 2019, our low-cost, S&P focused index strategy has generated investment gains of $13.3 million which are $5.6 million higher than the average similar-risk fund. As of June 2023, Foundation assets totaled about $40 million, of which $17 million was invested on behalf of community agencies. 
The endowment's long-term returns not only greatly exceed our benchmark, but are also substantially above the returns of most small and large endowments. In the context of expected long-term returns of 8 to 9%, the demonstrated multiple-year return differences of 190 to 470 basis points are highly significant and have led to the $5.6 million in outperformance versus the average moderate-risk fund.
Our outperformance resulted from: 
A focus on maintaining target exposure to stocks and not reacting to changes in investor mood and the always volatile economic and political news 
Heavy weighting to the S&P index as large-cap growth stocks have outperformed other equities
A higher than benchmark target equity allocation (68% versus 60%), which generates higher returns in the long run
No foreign stocks, which have significantly underperformed US stocks for many years
Periodic reallocation between stocks and bonds to take advantage of both major short-term fluctuations and long-term trends Israel Bonds, which limit fluctuations (both up and down) in our investment-grade bond portfolio while paying higher interest than U.S. Treasury Bonds 
Low advisory fees and a completely indexed equity portfolio 
Goldman and the investment committee continue to monitor our portfolio closely. We both believe that the Jewish Federation of the Lehigh Valley is well positioned to continue with better than average returns.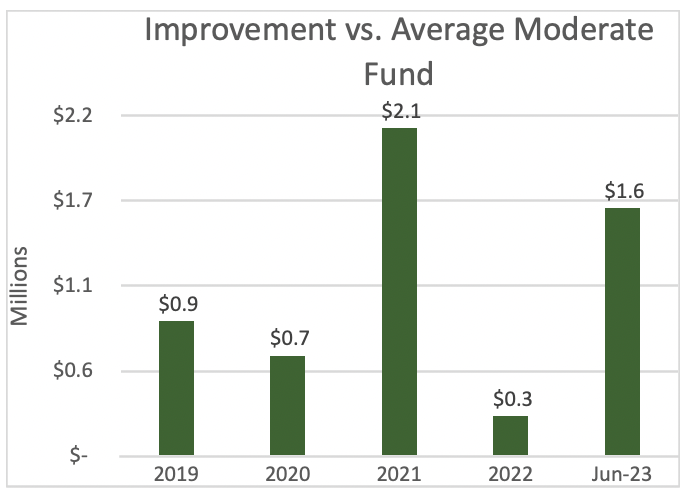 Jewish Humor
My oldest daughter, Karen, was living in London about three years ago. She hired a butler and asked him to set the table for four for a dinner with friends that evening. She went out to buy some food, came back and saw the table was set for eight. She asked the butler "Why is the table set for eight instead of four?" The butler said, "Well, while you were out, Mrs. Cohen called and said she was bringing the Blintzes and the Knishes, so I set the table for eight."
Donor-advised funds
By Mike Miller
LVJF Endowment Chair
Opening a donor-advised fund (DAF) at the Lehigh Valley Jewish Foundation (LVJF) empowers you to offer essential financial backing to the charitable causes that resonate with you the most. 
A philanthropic DAF with the LVJF is an investment in our community and an efficient way to manage charitable giving to make the greatest possible difference where there is the greatest need. With tax benefits, unique opportunities for multi-generational giving and a variety of ways to establish this vehicle with a beginning balance of $10,000 or more, a DAF is an impactful way to ensure our Jewish communities remain vibrant and strong, now and in the future. 
Donors can create an individual investment account in the LVJF for the purpose of increasing their charitable impact, while reducing their tax liability. It is owned by LVJF, but the donor has the right to recommend how money (principal and income) is distributed to qualified 501(c)(3) charitable organizations the donor cares about. The donor may attach a special purpose to the recommendations that will be relayed to the charity. LVJF conducts due diligence to ensure the funds granted go to an IRS-qualified charity. By donating stocks, mutual funds or other property, the donor can avoid any tax on the appreciation of the assets, if they have been held for more than a year and the full amount up to a specified percentage of the donor's adjusted gross income is donated. The LVJF adds these contributions to its diversified endowment fund for tax-free growth.
Donor-advised Funds may support international charity work through recommended grants to U.S.-based intermediary organizations that operate to provide support to foreign grantees, such as "friends of" organizations. When a grant to a U.S. charity is specified for a foreign project or a foreign organization, Federation, as the grant-making organization, will confirm that the intermediary organization has the requisite discretion and control over how the funds will be used internationally. 
Federation will provide donors/fund advisors with quarterly statements showing beginning and ending assets, and the contributions to and grants from, as well as investment income, and expenses. Donor(s) may extend the advisory privilege during their lifetime to other individuals to be known as fund advisors. Additional provisions apply for successor advisors.