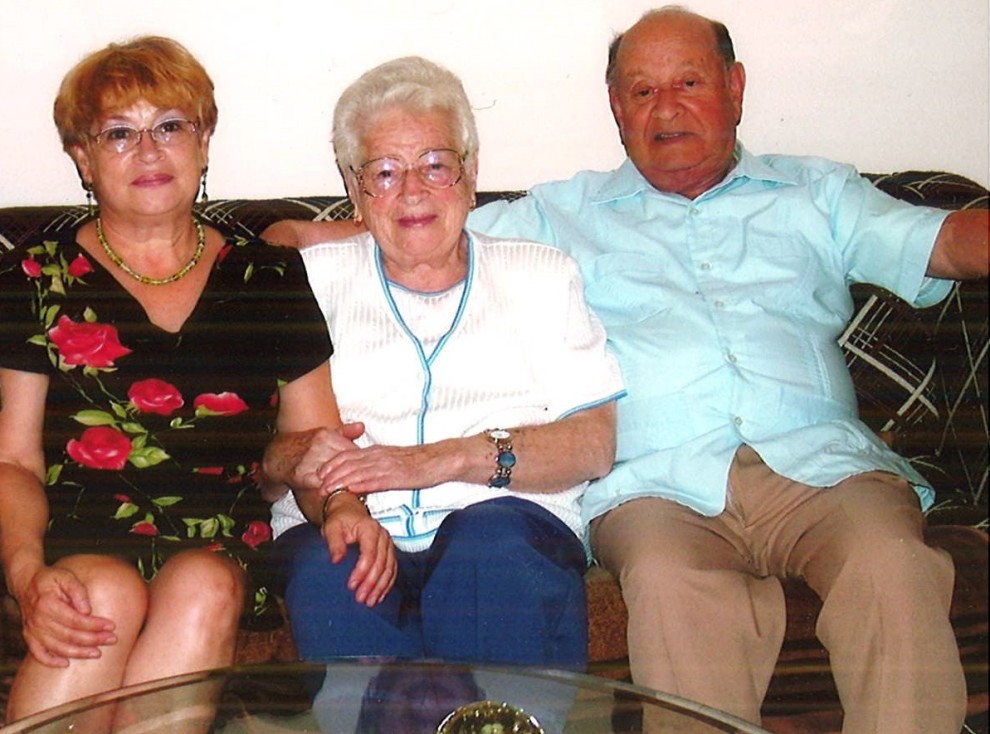 By Michelle Cohen
HAKOL Editor
Yeremey and Dora Feldman were honored as "Unsung Heroes" by the Lehigh County Office of Aging and Adult Services in 2001. Recently, their only daughter Lucy Korsky, inspired by their lifetime of "dignity, integrity, kindness and helping people," set up the Yeremey and Dora Feldman Charitable Fund through the Lehigh Valley Jewish Foundation to ensure a future where her parents' values will be honored.

Among these values, Korsky recalls her parents' "generosity, sharing spirit, humility and great consideration for other people." It is so important, Korsky said, to meet "people who inspire you to be a 'better you,' but when it's your parents, it's priceless!" Growing up in a family where "the richness of your heart" was far more important than material goods, Korsky absorbed it "by osmosis" and is determined to live by this principle first and foremost in her life. The first step of this is to remember her parents' story, and to share it with all those who will listen.

Her mother, age 96, and her father, who died in 2007 at 89, lived an inspiring "love story" for 63 years. They met before World War II, when they took a ride in the back of a pickup truck on the way to a vacation destination in the summer of 1940. They lost touch during the war, where Yeremey volunteered for the military but was exempted from service due to childhood polio, and ended up working as a military engineer in the steel industry. When he returned to Kiev after the war, he and Dora were reunited by a chance that Korsky called "divine intervention."

After finding out about the loss of his two brothers – one who was killed in the army and one who was murdered with his family in Babi Yar – Yeremey searched in vain for "the love of his life," but found her apartment building destroyed by a bombing. Desperate, he headed to the center of the city, and by pure chance, found Dora, who had returned to the city after it was liberated. "The rest is history" – Yeremey proposed that day, they were married the following day, and they began the rest of their lives together.

Yeremey and Dora taught their only daughter Lucy how to be generous to others even when financial means were limited. For example, under the Soviet housing system, apartments were assigned by employers, and her parents gave up their assigned single-bedroom apartment for a studio to give the greater space to a family with two children.

Korsky immigrated to the United States in 1978. A civil engineer like her father, Korsky sought a new life with her husband and son. The decision to ensure a better future for her was "one of the best decisions in [my] life," Korsky said. She worked as a civil engineer for 10 years in Reading and Allentown, and after her son graduated from Drexel University, she went back to school for physical therapy.

When Korsky left her parents, she was unsure if she would ever see them again due to the Iron Curtain across the former Soviet Union. However, her father and mother were able to follow her in 1979, and even though both had higher education from Europe, they went back to school at the ages of 72 and 70, earning liberal arts bachelor's degrees cum laude from Touro College.

Language was a major barrier for Korsky's parents when they immigrated. Although Korsky remembers a light-hearted moment when "my mother was doing better in school, in English," leading to her mother helping her father with homework to the point that she once failed an assignment for supposedly copying off of him, Korsky acknowledges that settling into American life was not easy for her parents. Her mother picked up the language more readily, and just as she helped her husband with reading and writing letters and understanding phone calls, she began to help Russian immigrants in the building where she lived. This kindness, along with other volunteering, was the reason why Dora and Yeremey got nominated as "Unsung Heroes."

It was "logical to continue something my parents started," Korsky said, noting that "my father would be very proud" of the Yeremey and Dora Feldman Charitable Fund. "It's a chance for me to share my feeling about them, not only honoring them, but to share who they [are]," she added. Along with a collection of family photos, old newspaper articles and a video of her father serenading her mother with a Russian love song, she hopes the fund will add to the ways she honors her parents' lives.

The fund, with allocations to "ensure a strong Israel, promote an understanding of the heroism and defiance of the Jewish people during World War II and [support] tolerance education, Zionism and Lehigh Valley synagogues," is being funded by an IRA Charitable Rollover. The IRA Charitable Rollover is now a permanent option for donors aged 70½ to make a gift directly from their IRA to the Federation. It can be made in any amount up to $100,000 per year and it will qualify as the donor's required minimum distribution (RMD). This means using it can reduce one's taxable income even if the donor does not itemize deductions.
To find out more about setting up a fund through the Lehigh Valley Jewish Foundation, the community's endowment fund of the Jewish Federation of the Lehigh Valley, or other forms of honoring loved ones or leaving a legacy through charitable donations, contact Jim Mueth at 610-821-5500 x333 or jim@jflv.org.