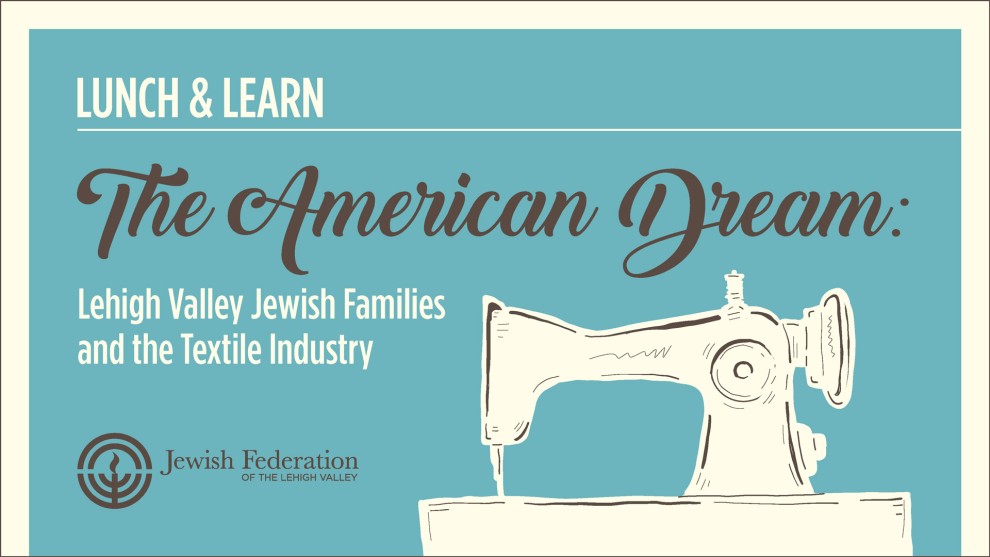 By Stephanie Smartschan
JFLV Director of Community Development & Operations
Muhlenberg professors Gail Eisenberg and Susan Clemens are returning to the JCC for the third installment in their ongoing series on families in the textile industry.
This time, the focus will be on family stories through the lens of the American dream at a Lunch & Learn sponsored by the Jewish Federation of the Lehigh Valley on Sept. 13.
Many local families will be featured in the presentation.
Lenny Abrams, Irwin Schneider, Marty Krasnov, Tama Fogelman and Maxine Klein will be seen in video interviews talking about their fathers.
"These were immigrants or children of immigrants who were ambitious, persevered and, ultimately, were successful," Eisenberg said. 
Marshall Silverstein, z"l, Lenny Bloch and Nate Braunstein, z"l, will be heard talking about how they continued on in their fathers' businesses, or even built their own during the 1950s through 1970s.
Mark Fogelman, Mark Stutz and Marc Malkovsky will discuss how they later had to reinvent themselves as the textile production industry in the U.S. shrunk.
The interviews are the culmination of an oral history project that Eisenberg and Clemens began in 2011. "There's a Jewish story that's never been told and I would really love to tell that story," Eisenberg said of starting the project. 
In 2013, Eisenberg and Clemens presented their initial findings at a Federation lunch and learn. In 2016, they returned to share the stories of the wives and mothers behind the textile industry.
The project, when completed, will be permanently archived at Muhlenberg College.
The Lunch & Learn, "The American Dream: Lehigh Valley Jewish Families and the Textile Industry," will take place on Friday, Sept. 13, at 12 p.m. at the JCC of the Lehigh Valley. $12 for lunch and program. To register, contact the Federation at 610-821-5500 or mailbox@jflv.org or REGISTER ONLINE.