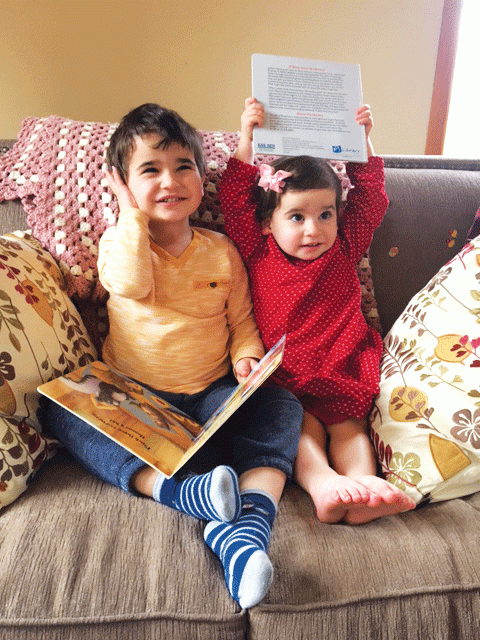 By Abby Trachtman
JFLV Project Coordinator
When Mark Goldstein, of blessed memory, called me into his office and told me about a program coming to the Lehigh Valley called PJ Library and asked if I'd be in charge of it, I had no idea what it was or how it would change my life.  

For 10 years, we've brought free, Jewish-themed, age-appropriate books into the lives of Lehigh Valley children and provided programming to go along with it. Programming has been the most challenging. We want to provide quality Jewish learning that is also low-barrier Judaism, so that all families can participate, even ones who identify as Jewish but have no Jewish education.  

Over the last 10 years, we've had sukkah hops, Jewish disability awareness programs, story walks for Rosh Hashanah, model Seders for Passover and Havdalah movie nights among the nearly 70 programs. We've partnered with the Jewish Day School of the Lehigh Valley, the Jewish Community Center of the Lehigh Valley, the local synagogues, Muhlenberg College Hillel, the Allentown Art Museum, Whole Foods, Barnes and Nobles and Jewish Family Service of the Lehigh Valley.

This last year, we switched to Zoom programming, and families were so appreciative to pick up a bag full of items to use that explained the holiday or theme, including a craft, and when we came together via Zoom, a PJ Library story to listen to. We thought that children would grow weary of Zoom programming, but they craved the connection to their friends and community, returning again and again.

While we don't program PJ Library events for the thank yous, it's one way we know we are making a positive difference in the lives of Lehigh Valley children and reiterates that the work we do here at the Jewish Federation of the Lehigh Valley is so important.

Join us on Sunday, Oct. 24, at 3 p.m. at a party at the JCC to celebrate PJ Library's 10th Birthday in the Valley! Pre-register here.