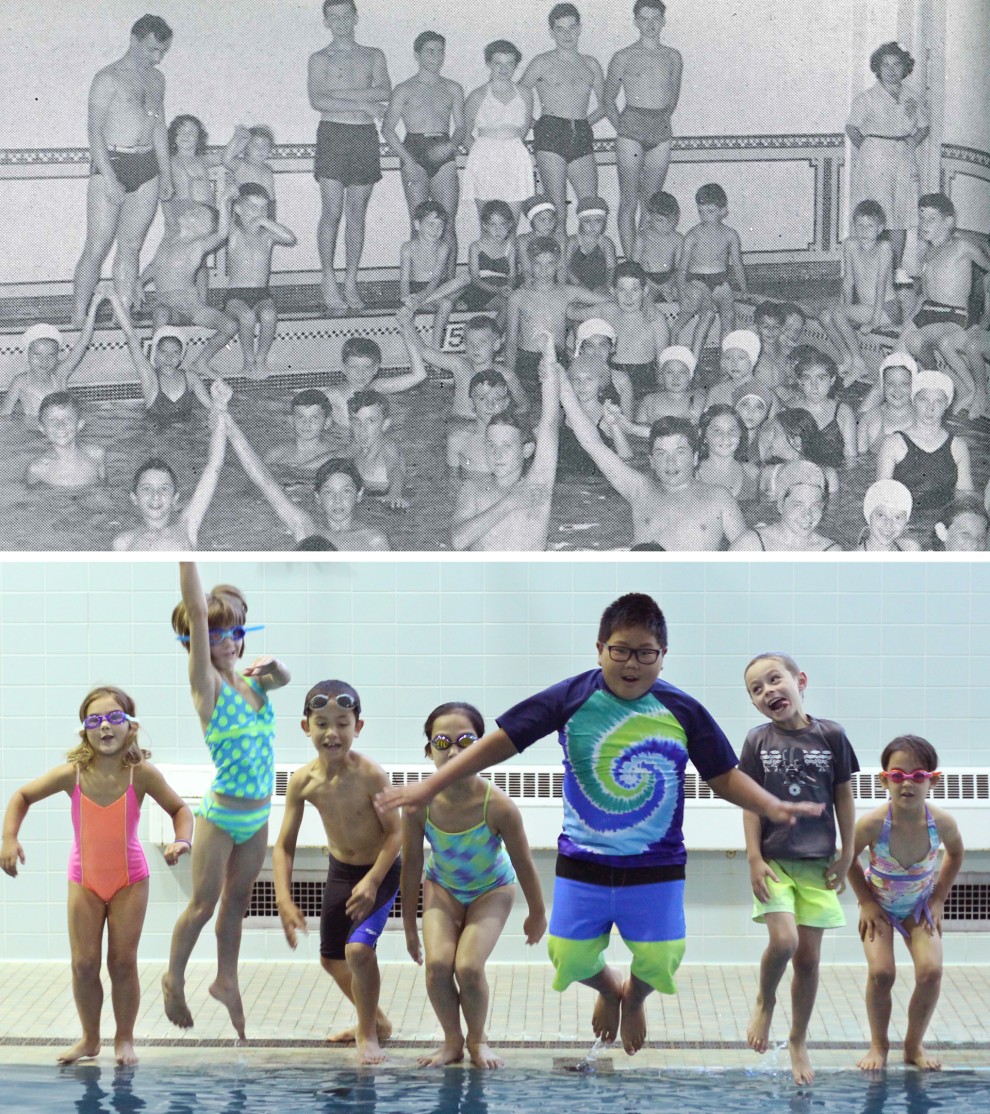 By Amy Sams
JCC Centennial Weekend Coordinator
I'm honored to write about the Jewish Community Center's centennial year. One hundred years. I have been around for just a little bit over half those years. I sit here in my office on the second floor of the JCC, thinking of how our agency has touched the lives of so many, including my own and those of my family members. The JCC has served the Jewish community and the community at large in various and critical ways. The JCC has touched people's lives past, present and future. Our community has a lot to celebrate.
In the present day, the JCC is a dynamic and vibrant place to connect, grow and learn. On any given day, I can see the infants and children in the building thriving, growing and being loved. I see parents and children re-connecting at the end of the day and see how important the JCC is in the lives of families. The children at the JCC are learning to cook, sing, play instruments, act and create, all while making friends and socializing. Children and teens are bonding with others at Camp JCC, exploring the outdoors and building confidence. 
Throughout this centennial year, so many individuals have shared their memories and stories through our website, podcasts, e-mails and letters, and more recently in our Centennial Facebook Group. Wow! Many have shared stories about the people who inspired them and taught them life skills. We have heard repeatedly about Carol Rose, Hal Grossman, Ed "Mr. Ed" Rourke, Dennis McGinley, Len Gurvitz, Selma Telles,  Miss Judy (Freeman) and Miss Marlene (Finkelstein) just to name a few.
More recent memories about the JCC have been shared by 3rd generation JCCers. Ross and Wendy Born's grandchildren shared their memories through one of the fantastic Centennial Podcasts recorded and produced by Steve Mittman. Listening to the podcasts, there is a recurrent theme: the JCC matters. Whether the memories are of doing calisthenics to the "Chicken Fat" song, appearing on stage, or learning how to save a life in the pool, the JCC matters.   
The JCC matters not only to those with fond memories of growing up here, but also to those who count on the JCC today for social, educational, arts, cultural and wellness opportunities. Adults today are making personal connections through programs such as Yiddish Club, Mah Jongg, Friendship Circle and mosaics, as well as in the fitness center and at the pool.
A poignant memory was shared about a rally at the JCC when the Six-Day War in Israel broke out. Joyce Kitey said, "I think everyone in Allentown was there. It was an incredible evening — the speeches, the donations, the extraordinary gathering and common feeling that each and every one of us was involved and united in our stand for Israel's survival — we were one in thought and action. The Center was the place where this historic night took place. It was an event that made an imprint on my life and the lives of many of my friends."
The JCC continues to be a place of gathering for important times in our national and local history, as well as a place to celebrate our Jewish holidays and connection to Israel. 
The JCC matters to people like Kimberly Valuntas who graduated from the JCC pre-school back in the '70s and had the good fortune to have the JCC available for her three kids for preschool and today as teens. Kimberly shared that as a young mom, she loved having a place to go with her babies and toddlers and continues to enjoy the JCC as a community for all of us.
We heard from people like Rella Bindell, who moved away to Florida 24 years ago. Some of her fondest memories were working at Camp JCC and teaching at the JCC nursery school. It doesn't matter if you fondly call it nursery school, preschool or Early Childhood Education (ECE), the JCC has been making a difference in children's lives for a century and beyond.  
The JCC is not only a hub for the community, but we are a key partner with the Lehigh Valley Jewish agencies, synagogues, universities, artists and businesses. The Lehigh Valley has enjoyed Jewish and Israeli films at a variety of venues such as Lafayette College, ArtsQuest, Muhlenberg College, Civic Theater, Congregation Brith Sholom, Congregation Keneseth Israel, Lehigh University and more. The JCC continues to partner with Jewish Family Service, Jewish Federation and the Jewish Day School for a variety of programs and events.
We are a community that enjoys coming together to learn, remember, grow, observe, support and celebrate! The JCC is more than just a building. We are a community. Throughout our 100-year history together, we have grown roots that reside in the loving and welcoming nature of our community. It is in these people that we continue to branch out. This is a place where you can share your memories and connect with others in the community -- whether they moved away long ago or live right next door.
The JCC of the Lehigh Valley has a lot to be proud of, so we are throwing a weekend-long celebration, and everyone is invited! The party is for kids, adults, family and friends. Join us to honor 100 years of memories and look forward to 100 more.