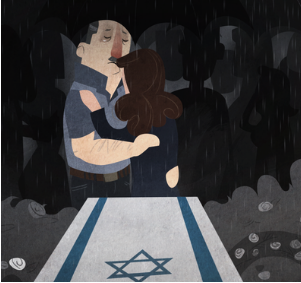 By Stephanie Smartschan
JFLV Director of Marketing
Each year, the Lehigh Valley community gathers to commemorate the lives of fallen IDF soldiers and those who have lost their lives in terrorist attacks in Israel. 
But Yom Hazikaron – Israel's Memorial Day – can sometimes be hard to understand for Jews in the Diaspora.
"For most of us in our community, who have never lost a family member or friend at war or during a terrorist attack, it is difficult to imagine the deep loss that such a tragedy leaves," said Aaron Gorodzinsky, director of outreach and community relations for the Jewish Federation of the Lehigh Valley, which organizes the ceremony.
That's why the Federation this year, working with the Israeli community in the Lehigh Valley, chose to bring a new artistic installation by Beit Avi Chai of Jerusalem to the ceremony. The project is called "A Face. The Day. A Memorial."  and utilizes current technologies in order to transform memories from the lives of fallen IDF soldiers and those who lost their lives in terrorist attacks into animation films.
It's based on the belief that "memories are meaningful more than one day a year," according to the project's website.
"Recognizing the importance of Yom Hazikaron in Israeli society, Beit Avi Chai identified the need to create a meaningful project that could impart personal messages and tributes in a way that speaks to all Israelis, connecting with thousands of people through the internet," the website says.
Chai's videos will play a role in the Lehigh Valley's ceremony this year. Students from the Jewish Day School of the Lehigh Valley will also participate, sharing impressions from their correspondence with IDF soldiers.
The Yom Hazikaron ceremony will take place on Tuesday, April 17, at the JCC of the Lehigh Valley. Services will begin at 7:15 p.m. followed by the program at 7:30 p.m. The program is free and open to the community.